You can think of Kashmir as a hamlet nestling within the peaks of the Himalayas. Imagine a bowl – albeit a rather large one – and you get a fair idea.
The Pir Panjal towers to the south connecting it with the plains of India while middle Himalayan range separates the valley from Ladakh.
They Kashmir valley lives up to its postcard image. And if you are lucky to view it for the first time after you cross the Banihāl or Jawahar Tunnel you will know what we mean. The sheer majesty of the large valley and the peaks on both sides overwhelm you.
Kashmir has been gifted with exceptional natural beauty across its length and breadth. However, due to the focus on tourism and good road connectivity only to selected spots, people mostly throng to the popular sightseeing places. The more famous ones are Gulmarg, Pahalgam, Yusemarg and Sonamarg while others such as Kokernag, Daksum and Khilanmarg find takers among enthusiasts.
Kashmir has plenty of freshwater lakes. Srinagar itself is known for its Dal Lake with the great Mughal gardens like Shalimar Bagh and Nishat Bagh laid down along its banks. Looking out from these parks towards the lake gives you some excellent views.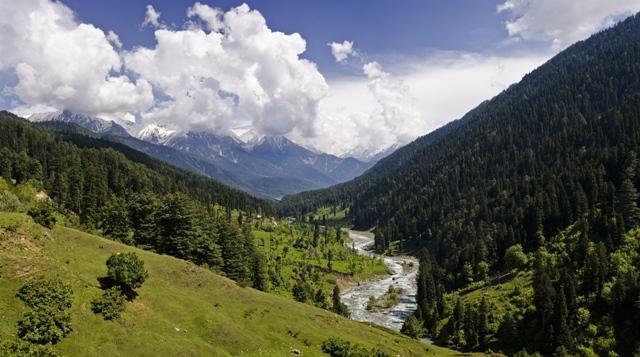 A View of Pahalgam Valley (Wikipedia)
In this 3-part series, we will look at Kashmir one place at a time. Here we look at Pahalgam.
Pahalgam
Pahalgam, situated in the Anantnag district, looks like a little spaceship flanked by snow-capped peaks even in summers. It is famous for its river Lidder (or Liddar) which flows through its breathtaking landscape. The cold, crystal-clear water of the river often reflects the clear blue sky. It flows along the main road with its walnut and pine trees. In some way, it looks as if the trees are bowing down towards it. The river gives Pahalgam a special picturesque edge different from other tourist attractions in Kashmir. One can relax and enjoy on the patio decks on the river bank while sipping the traditional Kahwah and watch the snowclad mountain peaks above.
People here, much like other small towns across the country, seem happier, more at peace despite being in a politically sensitive zone like Kashmir. A typical scene in the Pahalgam market would be bustling with tourists. Different handicrafts like carpets, Pashmina shawls, papier-mâché items, walnut wood carvings, Phiran, Namdas, and silver jewellery make for an interesting place for those who like to indulge in classic, elegant yet minimalist luxury. You will see plenty of Phirans, a local warm gown used by the locals. It keeps one well protected from the cold and comes in various sizes, shapes and designs. The hand-embroidered garments have become a tourist must-buy.
The more popular places to explore around Pahalgam are Aru Valley, Baisaran Meadow, Chandanwari, Betaab Valley and Kolahoi Peak, among others. Even the locals can be seen here during weekends with their picnic baskets and homemade Wazwan. You can enjoy the day in complete peace and tranquility. Your only companions would be the big herds of sheep grazing the lush green meadows.
Pahalgam mesmerizes anyone who visits this magical place. It is worth visiting just to look at life from another perspective altogether.
If you plan to visit Pahalgam, here are few tourist spots that must be on your list.
Betaab Valley
Named after the movie 'Betaab' that was filmed here, the valley is the perfect picnic spot for you and your family. Its natural beauty makes you take out your camera (or smartphone) and keep taking pictures of the snow-capped mountains around.
Days you may need: 1-2 days
Chandanwari
Another picturesque location in Pahalgam is Chandanwari from where the Amarnath Yatra starts. The peaks are covered in snow for most of the year. It is advisable to take a pair of boots if you want to trek higher. Taking a sled ride or two is a popular activity here.
Days you may need: Half to 1 day
Tulian Lake
Around 16 km away from Central Pahalgam, Tulian Lake is worth the travel and effort. Situated at a height of 3,684 metres (12,087 ft) above sea level, the lake is surrounded by mountains on three sides. Travellers say a visit to the lake will give you one of the most beautiful memories of your life.
Most enthusiasts prefer to trek but locals suggest the best way to get to the lake is by horse. You need to consider the weather and time to visit this lake since it can get quite chilly due to the nearby glacier.
Days you will need: 1 day if you take a horse ride, minimum 2 days if you plan to trek to the location
Aru Valley
Just 12 km away from Pahalgam, Aru Valley is one of the favourite tourist spots in Kashmir. It is popular for its scenic beauty – meadows, lakes and mountains – you get the whole deal here. The valley also serves as the base camp for the trek to Kolahoi Glacier, Katrinag Valley and Tarsar-Marsar lakes. The Aru River, a tributary of the Lidder, flows through the valley. You can also check out the Overa-Aru Biosphere Reserve while you are here.
Days you will need: 2 days
Kolahoi Peak
Mountaineers should put Kolahoi Peak and glacier on their bucket list. Situated 21 km north of Pahalgam and around 15 km south of Sonamarg, this pyramid-shaped peak offers you spectacular views. The ice falls and ice fields of the Kolahoi glacier at the bottom are worth a visit.
Days you will need: 2-3 days
A Traveller's Advice
Keep at least two extra days when you visit the state. Disturbances, weather-related road closures, traffic jams due to rain or snowfall, and other factors can affect the time to reach any tourist spot. Some spots may be closed at certain times of the year. It is advisable to check beforehand. A bit of research can go a long way to make your trip to Kashmir memorable and comfortable.
More posts on travel and other interests