Commencing operations in 2002, Delhi Metro ushered in a new era in the urban transport system in the country, making commute within the NCR faster, convenient, and environment-friendly. It indelibly changed the way people travel in the national capital region of India. However, this successful revolution has its share of problems. In this post, we will look at certain difficulties faced by travellers that can be easily rectified or at least easily improved upon.
Over the years, Delhi Metro has seen a tremendous increase in the number of passengers. Metro ridership peaks during morning and evening hours when office-goers travel to and from work. College students and school-going children also travel during the same time every morning, making metro coaches extremely congested. This results in friction among fellow passengers over petty incidents. Minor squabbles are a common feature. We have even seen individuals coming to blows on a disagreement over space in the morning.
The metro authorities should increase the frequency of trains during rush hours and also consider making 8-coach trains standard on all routes. In addition, reminding people to be courteous to each other over the metro and station PA systems and on banners and billboards across the station may actually help make the journey easier. These messages can range from standard entreaties to be polite (in the PA systems) to funny takes on rush hour commute (these can change on a weekly or monthly basis in the billboards and banners to other messages that resonate with the people) may actually work wonders. Another thing that can be done is the introduction of a positive news ticker in the platforms and within the metro compartment. Reading some good news on the way to work can be an easy remedy to frayed nerves and may even help the person have a more positive day.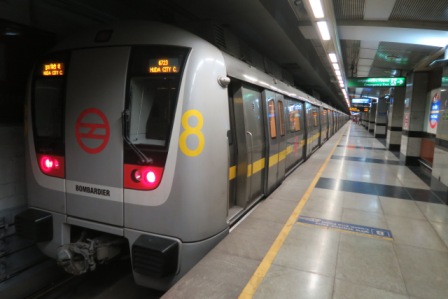 Also, people have a tendency to disregard basic courtesy and travel ethics when they are jostling to find a space for themselves. In spite of regular announcements inside the train to stand away from the entry-exit doors and not have backpacks on the back, a majority of travellers do so. Video instructions reinforcing the merits of standing in the middle of the coach and coming near the door only when the destination is near may be one possible step. Other measures may include penalising errant passengers. Since the concept of personal space is predominantly alien to Indians, the audio-visual medium should be used to urge travellers to take off bags from their backs and sides to prevent inconvenience to fellow passengers. Such videos can ask people to keep their belongings on the floor in the front of them or if that is not possible to hold it at the front instead of at the back.
People can also be made to realise that they should they start entering the coaches once all the passengers have alighted the train unless bumping into a dozen people and hearing oaths and curses make them happy. This will ensure smooth flow of traffic, preventing the tug of war that is witnessed every time the metro stops at a station. Using guards to control the traffic flow during rush hour as done in some stations may be a good step in stations that see more footfalls.
Off late, there has been a rise in the number of ticket vending machines or the gate access panel not working. This causes significant delay and frayed nerves, especially in the morning, when even a 2-minute delay can be the difference between reaching office on time or being late. Taking care of these issues before they occur might be a good idea.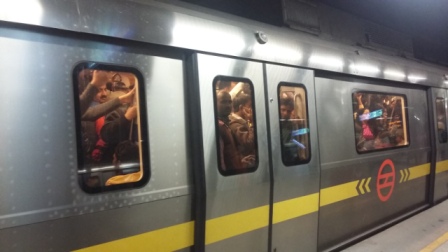 Another common issue is the typical metro jerk, especially when the metro is about to stop at a station. The train makes sudden movements, throwing standing passengers off balance. This sometimes results in minor injuries as travellers are caught unawares. With current technology and engineering know-how, this should not be difficult to overcome. The metro drivers should be given adequate training to ensure a smooth ride for passengers. This suggestion might turn out to be effective since the innumerable stares in the direction of the driver after alighting have not coaxed him to drive better.
If nothing else works out, we hope that the authorities provide a resolution to the problem of frequent breaks in a metro journey. Some lines see recurring instances of stoppage en route where the train halts for a few minutes. A one-off case is acceptable, but such breaks have become a regular feature. These unscheduled stops make people late, sending schedules in complete disarray. It can be tough to tell your boss every other day that the halted Metro is responsible for getting late to the office and not the hangover from the party the previous night.
Another area, that deserves a detailed research study, let alone a paragraph in a post, is making the metro safe for women. If anybody thinks that the Metro has done the best for women, all they need to do is visit the Connaught Place (or Rajiv Chowk) Metro station during morning rush hour. The way hundreds of women are treated in the rush of thousands is disgusting, downright shameful and needs immediate action. Simple measures like dedicated women-only movement areas, more women security guards, making certain exits and entrances only-for-women may make things better. Some people may decry such measures, but it should be remembered that laws and rules are necessary to control law-breakers and if certain measures ensure a safer Delhi Metro, then they should be appreciated.
The Delhi Metro has expanded well beyond its initial ?wow? days. Covering areas from Gurgaon, Faridabad, NOIDA and Ghaziabad it has become one of the largest metro networks in the world. Considering the size, it is imperative that certain management and operational practices are inculcated into the system so that things do not take a turn for the worse. The challenges exist but so do opportunities. What Delhi Metro does to tackle these issues will be interesting to see. Until then, keep your cool and carry on.